The Australian Brain Bee Challenge (ABBC) is a competition for high school students in year 10 to learn about the brain and its functions, learn about neuroscience research, find out about careers in neuroscience and to dispel misconceptions about neurological and mental illnesses.
The program was started in Australia in 2006 to address a number of deficiencies in the public's perception of science in general, and neuroscience in particular.
The ABBC provides current and accurate information on the latest advances in neuroscience research, its value to the community, and promote careers in science and technology.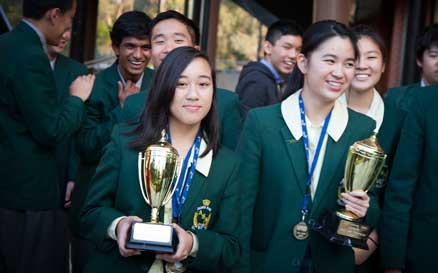 The ABBC aims:
to highlight what the brain does, how it functions and how important it is to everything we do and who we are as human beings. Simple knowledge of this nature provides self-esteem, dispels superstitions and misconceptions (for example topics such as where emotions reside), and explains the importance of enhancing your brain's potential through learning, exercise and avoidance of illicit drugs.
to educate teachers and students on the latest scientific findings and to explain how important research and discovery is to our community, as well as to generally improve scientific literacy in our community.
to provide opportunities for students from remote areas of Australia and New Zealand to participate in the competition and to challenge all students to consider a career in Science and Neuroscience in particular.
to promote the study of neuroscience as a multidisciplinary endeavour (encompassing all basic scientific disciplines including mathematics, physics, chemistry, biology, engineering, psychology, medicine and bio- and nano-technologies). The future of all fields of science is that disciplines that once seemed to have no relevance to one another are now coming together and science education is lagging behind this advance. Neuroscience can help bridge these disciplines.
The Brain Bee Challenge Rounds
There are 4 Rounds to the Australian Brain Bee Challenge;
Round 1 - Online Quiz

Round 1 is held during Brain Awareness Week. The learning content is a series of online modules with content developed by brain science experts from the Australasian Neuroscience Society and implemented in a strong educational framework by education designers and teachers of the Education Perfect team.
Teachers can enrol students for the competition through a dedicated link. Registration for 2021 is now available through Education Perfect.

For 2021, students study this material through Education Perfect and they will have access to the Brain Bee lessons after registering with Education Perfect.
They then complete an online in-class quiz to determine their knowledge and understanding of the structure and function of the brain.

The online quiz is hosted on the Education Perfect testing platform. Round 1 will take place for the entire month of March in 2021.

Round 2 - Regional Finals

Round 2 are the Regional Finals, held in each state/region in Australia and New Zealand. Students who achieve a high score in Round 1 are invited to attend a full day of activities at a university campus/research institution in their capital city. The exact timing of the day of activities will be determined by the Brain Bee Challenge state/island coordinators in the period between June – August.
On that day, as well as participating in two rounds of live questioning to determine who will become the state/region champion, students also have a day filled with activities to educate them about neuroscience and associated research. This may include lab tours, demonstrations, lectures, experiments and the opportunity to speak to researchers. There is also a team competition on the day where schools compete against each other to win prizes for their school.
For the 2021 Round 2 session, students will study both the Round 1 material and new Round 2 material (that builds up on Round 1 material) through Education Perfect (Brain Bee lessons can be found here: https://worldseries.educationperfect.com/brainbeecontent.html).
Round 3 - National Finals
Round 3 is the National Final where 8 Australian students (one from each state) and 2 New Zealand students (one from each island) compete against each other to become the Australian Brain Bee Challenge Champion, or the New Zealand Brain Bee Challenge Champion. Since 2007 Round 3 has been held annually at the Australian Neuroscience Society (ANS) conference which is held in early December. The finalists and a parent will be flown to the city where the conference and competition are held, with travel and accommodation paid for by the Australasian Neuroscience Society, the NZ Centre for Brain Research, and the ARC Centre for Integrative Brain Function.
In the finals, students compete in 4 challenges, held over 2 days including an anatomy challenge, a written short answer challenge, a patient diagnosis challenge and a live question and answer challenge. Further details are provided to the finalists closer to the time. Students also have the opportunity to attend ANS scientific sessions and meet with scientists, researchers and students involved in neuroscience.
Round 4 - International Finals
Round 4 is the International Brain Bee (IBB). The IBB is held at an international neuroscience/psychology conference and in the past has been held in places such as America and Italy. In 2012 the IBB was in South Africa and was won by the Australian representative, from Brisbane, Teresa Tang. In 2013, the IBB was held in Vienna, Austria and was won by Australian representative, from Brisbane, Jackson Huang. In 2018, the IBB was held in Berlin, Germany and in 2019, the IBB was held in South Korea.
Depending on the nature of the International Brain Bee, the Australian and NZ national champions will be supported to the competition. If the IBB was a face-to-face competition as in the years prior to 2020, then for the IBB, the Australian and NZ national champions and a parent for each of them will be flown to the city where the conference and competition are held, with travel and accommodation paid for by the Australasian Neuroscience Society.