Please contact us if you would like to add an event to this page. Events listed on this page are also advertised in our newsletter.
---
Active Brain 2020 Conference

The event will take place at the Australian Institute of Sport, Canberra Australia in May 2020.
Further detail can be found at the conference website: www.activebrain.com.au
The conference includes confirmed world-leading speakers from North America, Europe and Australia. The conference covers a new, innovative area not well-represented by other conferences. It is cross-disciplinary, and brings together fields such as high performance sport, neuroscience, psychology, mental and brain health among others. The conference focuses on the brain and physical activity. From both a health and performance perspective, international and national experts will discuss the role that physical activity has on the brain, and how the brain can influence physical activity.
---
Canadian Neuroscience Meetings
The Canadian Association for Neuroscience and the Australasian Neuroscience Society have reached an agreement allowing our members to register at member rates for our respective meetings.
The next Canadian Neuroscience Meeting will take place May 31 - June 3, 2020 at the Hotel Bonaventure in Montreal, Canada. We invite ANS members to visit the meeting website, view our program and register for the meeting:

In order to take advantage of registration at member rates, ASN members will be required to use a coupon code and to enter their ANS membership ID number. The coupon code is: ANS_CAN2020 ANS Membership will be validated after registration by your ANS membership number, which must match the registrant's name.
Meeting key dates: View

Meeting program: View

---
FENS Forum 2020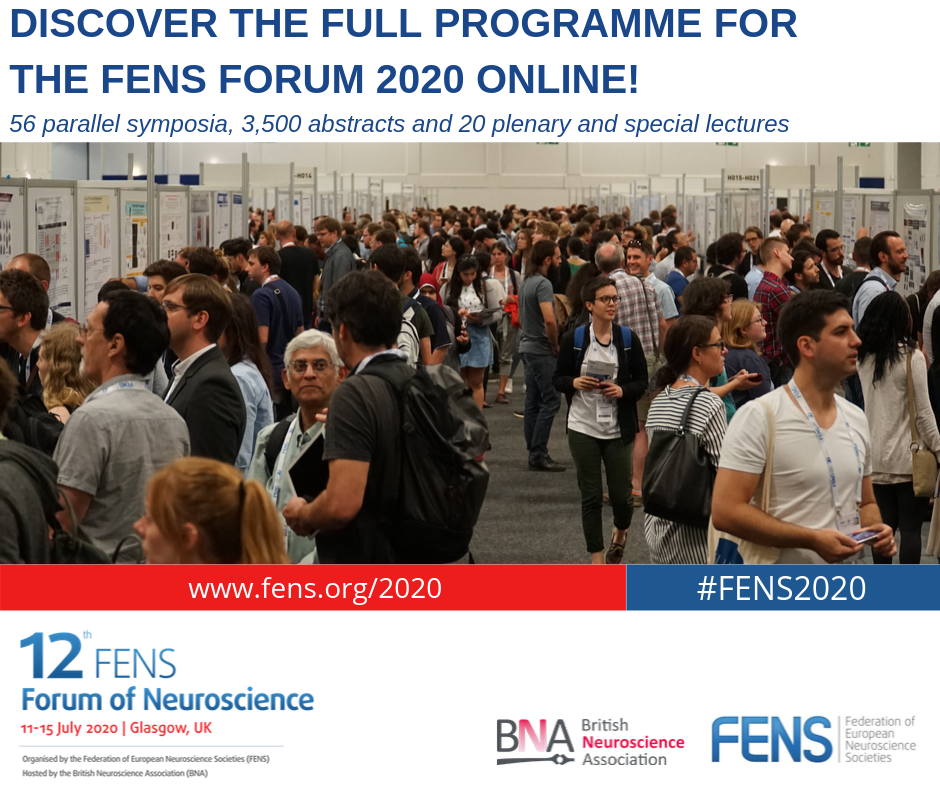 Glasgow UK, July 11th - July 15th, 2020
https://forum2020.fens.org
Registration and call for abstracts for #FENS2020 now open!
Gathering more than 7,000 attendees from all over the world, the FENS Forum of Neuroscience is Europe's largest international neuroscience meeting.
Discover the full interactive programme for #FENS2020! Featuring 56 parallel symposia, 3,500+ abstracts and 20 plenary and special lectures, the Forum will be a great platform to discuss science & learn about new scientific developments. Visit http://bit.ly/FENS2020Programme for full programme details.
Registration and abstract submission open on 1 December 2019, travel grants will be available.
United Kingdom The FENS Forum of Neuroscience is the largest international neuroscience meeting in Europe, involving all neuroscience societies' members of FENS, and held biannually on every even year. The FENS Forum strives to promote excellence in neuroscience research in Europe at large and to facilitate the interaction between scientists in and outside Europe. Participants in the FENS Forums are scientists at all career levels working in all areas of neuroscience research. Students and early career researchers are extensively represented as a group in the Forum.
You can also take an active role in the FENS Forum 2020 programme and organise a Satellite Event during the Forum. Submit your Satellite Event proposal by 2 December (to be included in the early programme) and educate the neuroscience community on the issues that are important to you!
To stay tuned for more exciting FENS Forum 2020 updates, you can register to our News Alert.
---
PAIN2020
14-15 November 2020
Online – virtual meeting
PAIN2020 is a virtual meeting that will take place from 14-15 November 2020. Join us online to engage in the high calibre and contemporary program, enhanced for a virtual platform. Virtual registrations allow for full access to all sessions live and one-month post-conference, and includes complimentary access to the afternoon workshops. Virtual networking opportunities are also available.
PAIN2020 will be the only conference on pain management this year allowing medical education to continue and CPD points to be gained through this pandemic.
All profit from the meeting will be donated to healthcare societies supporting research and outreach efforts such as Painaustralia, the Australian Pain Society, the Faculty of Pain Medicine and the Neuromodulation Society of Australia & New Zealand.
We look forward to meeting with you virtually.
More information available at www.dcconferences.com.au/pain2020 or @PAIN2020SYD on Twitter.
Conference Secretariat
DC Conferences
02 9954 4400
This email address is being protected from spambots. You need JavaScript enabled to view it.
Please see flyer for conference here..
---
Australian Pain Society 41st Annual Scientific Meeting 2021
8-21 April 2021
National Convention Centre Canberra, ACT
The Australian Pain Society continues to align their conference theme with the IASP Global Year; in 2021 this is, 'the IASP Global Year Against Back Pain'. The program will be full of inspiring national and international speakers who will provide a veritable glance at the most complex, challenging, provocative and indeed interesting topic: Pain.
---
Australian Functional Genomics - Register your interest!