Applications for satellite meetings to be run in partnership with the ANS Annual Scientific Meeting (ASM) are now open. Satellite Meeting organisers are entitled to claim $20 per meeting registrant in subsidy, up to a maximum of $1,000 for the purpose of reducing the meeting registration fees.

Please read the full Policy for ANS ASM Satellite Meetings for more information. Organisers must complete an online Expression of Interest Form as soon as possible, and no later than two weeks prior to the Satellite Meeting.


_______________________________________________________________

The Australasian Neurotrauma Symposium (ANTS) aims to bring together researchers from across the Asia Pacific region who work on traumatic brain injury, spinal cord injury and/or stroke. This year, the meeting is scheduled to take place on 2-3 December in the Mayne Medical School Building in Brisbane, Australia. See the ANTS website for more details: https://www.connectivity.org.au/updates/australasian-neurotrauma-symposium-2023/
_______________________________________________________________

Satellite Meeting
2-3 December 2023
Forgan Smith Building, University of Queensland
https://australasianautonomic.org/
For information, contact: Prof Vaughan Macefield, Department of Neuroscience, Monash University, Email: This email address is being protected from spambots. You need JavaScript enabled to view it.
_______________________________________________________________

We invite researchers to attend the newly formed satellite meeting, Cellular and Molecular Advances in Neurodegeneration (CAMAND) immediately prior to the ANS Conference (Dec 3-4, at the Queensland Brain Institute). This meeting aims to bring together researchers in Australia and New Zealand investigating topics of molecular and cellular mechanisms of ageing, neurodegeneration, dementia and fundamental mechanisms allied to that.
The meeting will include talks, posters and a workshop (details TBC) aimed at facilitating networking opportunities for all levels of researchers from graduate students to established lab heads.
For all the details please visit https://camand.org/ or contact the meeting chair Danny Hatters This email address is being protected from spambots. You need JavaScript enabled to view it.
_______________________________________________________________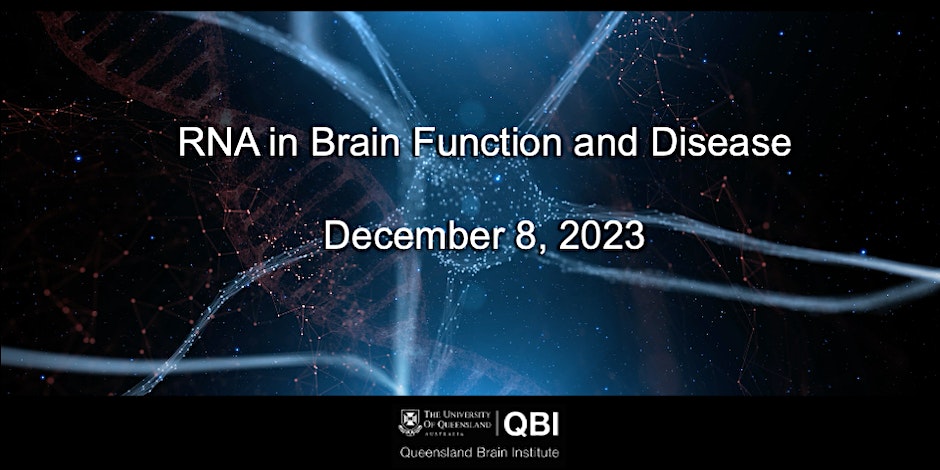 Despite more than 100 years of effort, we still do not know how the brain encodes and stores information in the form of long-term memory. Without this fundamental knowledge, our ability to treat neurological conditions characterised by cognitive impairment will forever be limited. Most neuroscientists have focused on circuit-mediated mechanisms, and at the molecular level a great deal of focus has been placed on understanding the role of protein metabolism and neural plasticity. These efforts have been commendable; however, science hasn't really moved the needle much in terms of the precise regulatory mechanisms underlying cognition and memory. In recent times, a new player has emerged from the shadows and, with the advent of new technologies, its importance for key neurological processes is ready for prime time – RNA-based mechanisms of brain function in health and disease: the next frontier in neuroscience. This satellite meeting brings together national leaders in neuroscience and RNA biology to discuss this important, emerging area.
See this link for the list of speakers and to register:
https://www.eventbrite.com.au/e/ans-satellite-rna-in-brain-function-and-disease-tickets-654684708587
_______________________________________________________________
This half-day FREE satellite event will bring together human microbiome researchers to share, learn, and connect.
Half-day satellite (8:30 am - 12:30 pm)
Attend in-person or online
Three plenary speakers
Morning tea provided
See the full program and register at: https://tiny.cc/ahmrn_symposium