ADNF Symposium XXXII
Thursday, October 26th, 09:00 AM Brisbane (AEST) Time
Hosted via Zoom: https://uqz.zoom.us/j/89365652799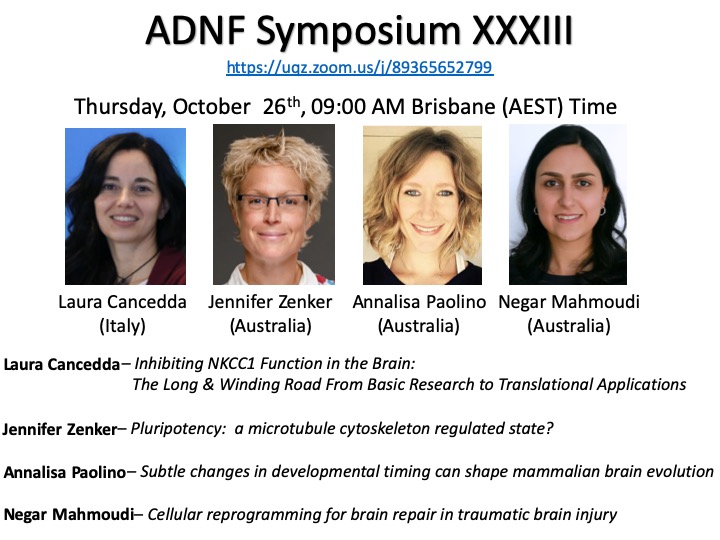 ADNF Symposium XXXII
Thursday, September 28th, 09:00 AM Brisbane (AEST) Time
Hosted via Zoom: https://uqz.zoom.us/j/89365652799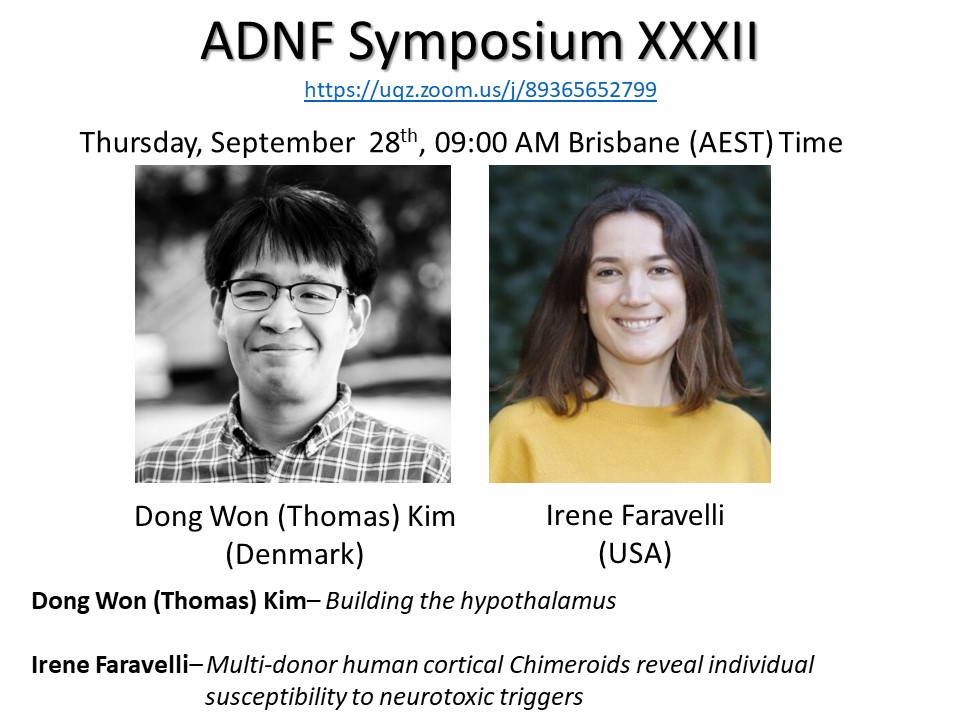 ADNF Symposium XXXI
Thursday, August 31st, 09:00 AM Brisbane (AEST) Time
Hosted via Zoom: https://uqz.zoom.us/j/89365652799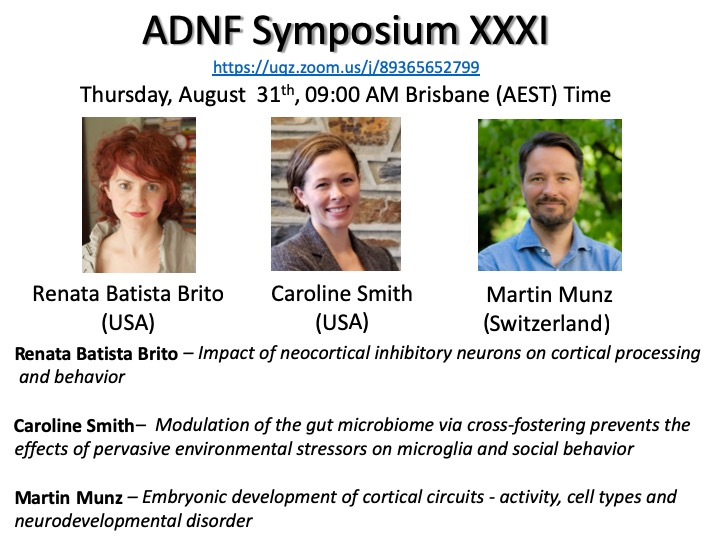 ADNF Symposium XXX
Thursday, July 27th, 09:00 AM Brisbane (AEST) Time
Hosted via Zoom: https://uqz.zoom.us/j/89365652799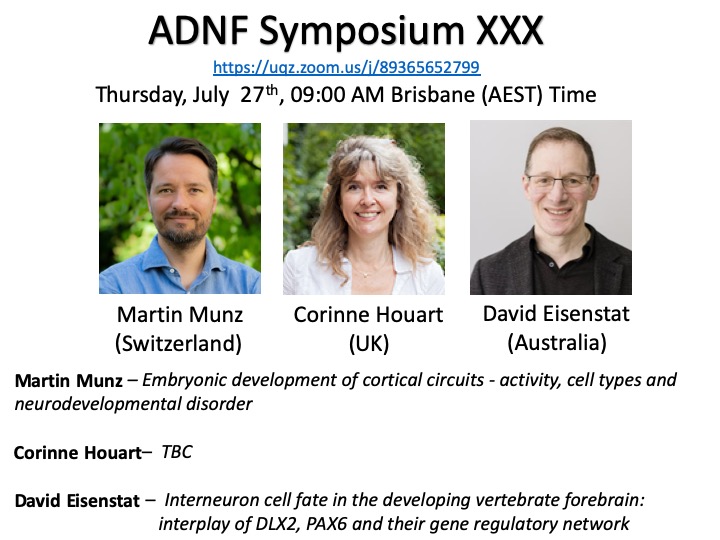 ADNF Symposium XXIX
Thursday, June 29th, 09:00 AM Brisbane (AEST) Time
Hosted via Zoom: https://uqz.zoom.us/j/89365652799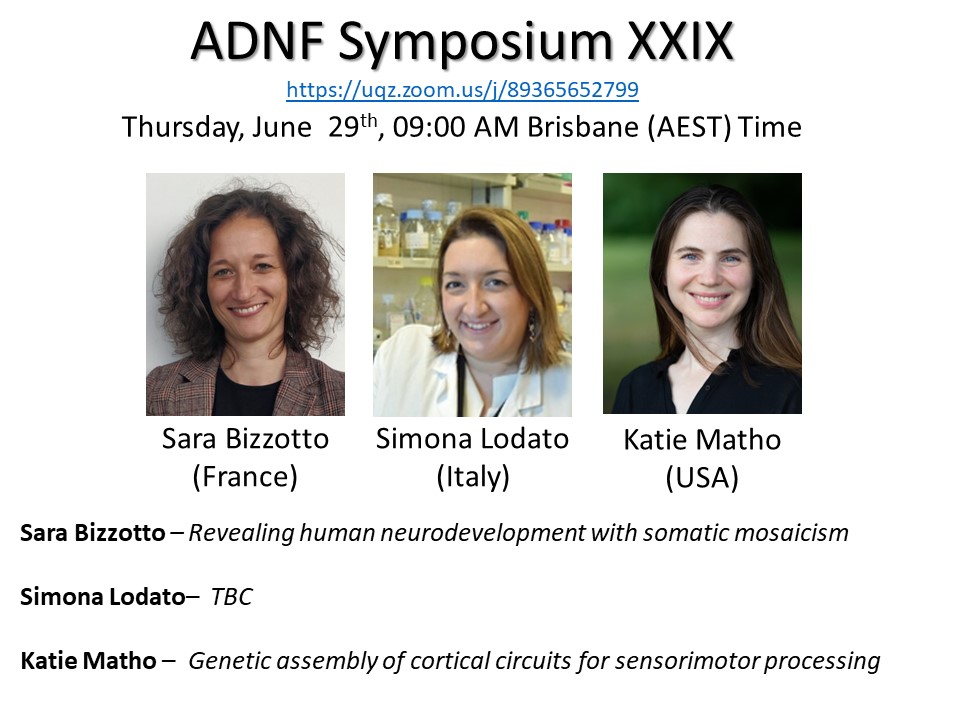 ADNF Symposium XXVIII
Thursday, May 25th, 09:00AM Brisbane (AEST) Time
Hosted via Zoom: https://uqz.zoom.us/j/89365652799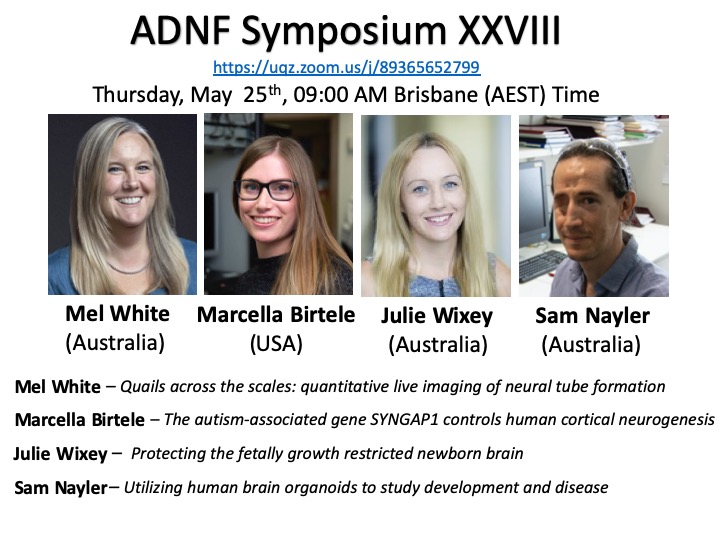 ADNF Symposium XXVII
Thursday, April 27th, 09.00 AM Brisbane AEST time
Hosted via Zoom: https://uqz.zoom.us/j/89365652799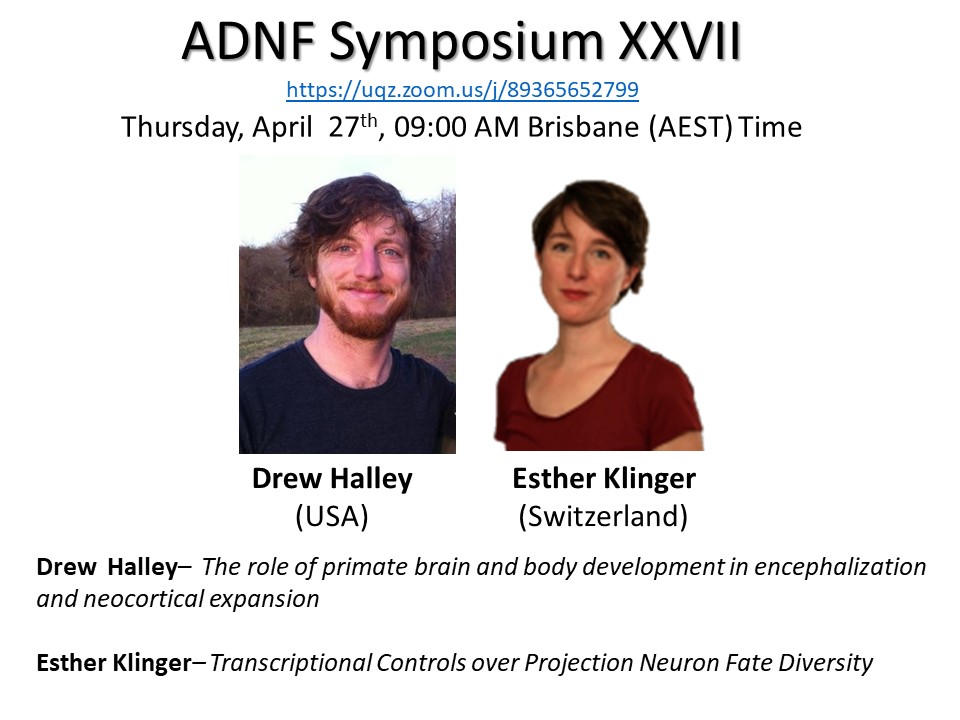 ADNF Symposium XXVI
Thursday, March 30th, 09.00 AM Brisbane AEST time
Hosted via Zoom: https://uqz.zoom.us/j/89365652799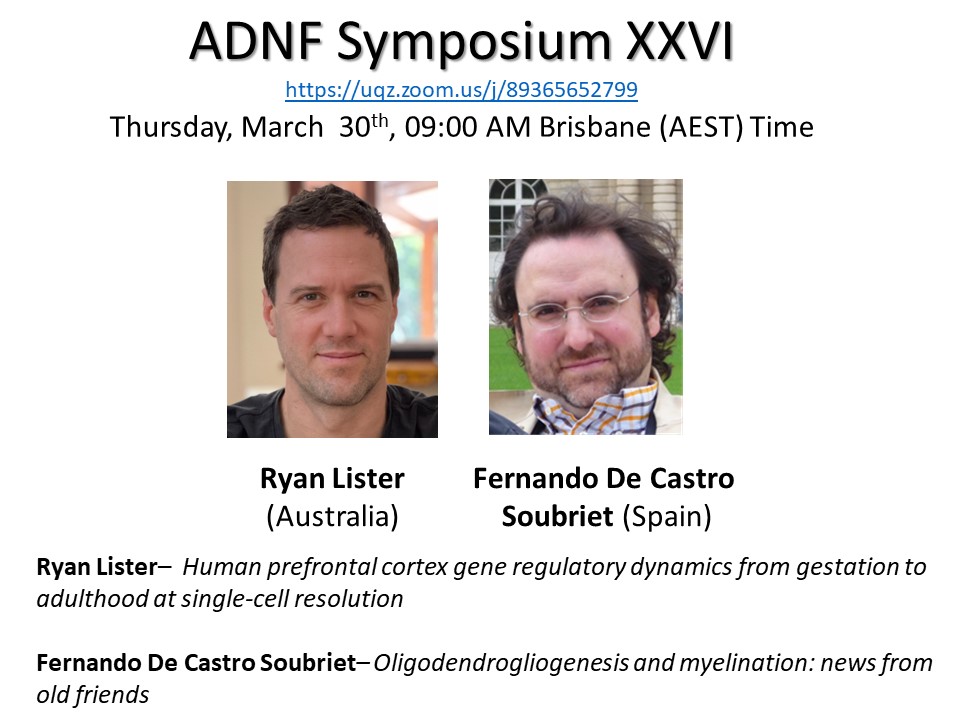 ADNF Symposium XXV
Thursday, February 23rd, 09.00 AM Brisbane AEST time
Hosted via Zoom: https://uqz.zoom.us/j/89365652799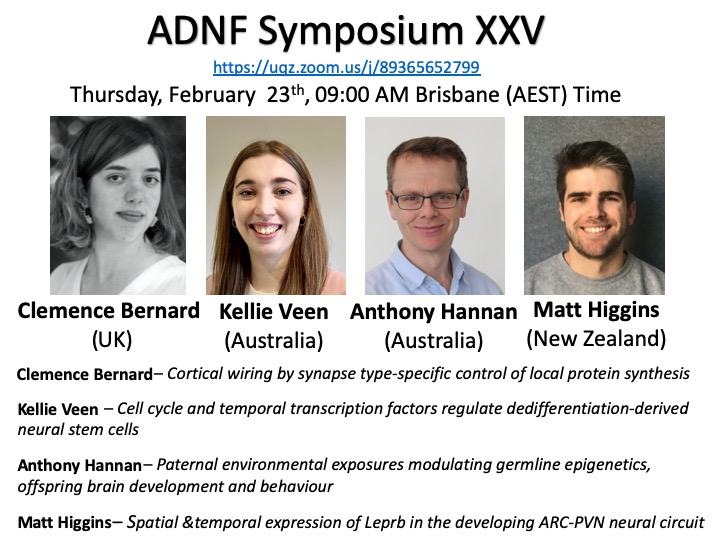 ADNF Symposium XXIV
November 24th, 09.00 AM Brisbane AEST time
Hosted via Zoom: https://uqz.zoom.us/j/81203597917

ADNF Symposium XXIII
October 27th, 09.00 AM Brisbane AEST time
Hosted via Zoom: https://uqz.zoom.us/j/81203597917

Ethan Scott, Professor Head, Lab for Neural Circuits and Behaviour, Queensland Brain Institute and Honorary Professorial Fellow, Department of Anatomy and Physiology, The University of Melbourne
Title: Brain-wide sensory networks in larval zebrafish
Bio: Ethan Scott earned his undergraduate degree at the University of North Carolina-Chapel Hill, where he studied molecular genetics in yeast under the mentorship of Prof. Thomas Petes. He then moved to Stanford University, and the lab of Prof. Liqun Luo, for his PhD work in developmental neuroscience. This work involved using targeted transgenics in Drosophila to express protein tools that revealed neurons' structures and contributions to sensory processing. This approach, using transgenics to explore the structure and function of neurons and networks, has formed the basis of his subsequent work. As a postdoc with Prof. Herwig Baier at UC-San Francisco, Ethan developed Gal4 enhancer trapping in the zebrafish model system, providing transgenic reagents for the exploration of this system's neural networks. In 2007, he established his own lab at the University of Queensland, where he is now a professor. Ethan and his group will relocate the The Department of Anatomy and Physiology at The University of Melbourne in January 2023.
Ethan's research group blends optical physics, neuroscience, and computational biology to describe sensory networks in zebrafish. The backbone of this approach is whole-brain calcium imaging at cellular resolution, whereby all of the brain's neurons can be probed for activity simultaneously. This permits the characterisation of brain-wide networks responsible for vision, hearing, vestibular perception, and the detection of water flow around the zebrafish larva. Ongoing work includes the modelling of these networks computationally, the description of simple sensory learning such as habituation, the exploration of networks responsible for sensory integration, and the modelling of sensory phenotypes in human psychiatric disorders including autism and fragile X syndrome.
Indranil Basak, research fellow at the University of Otago
Title: Modelling human brain diseases in a dish.
Bio: Indranil Basak joined the University of Otago in 2018 to work with A/Prof. Stephanie Hughes, after finishing his first postdoctoral training at the University of Utah. He started his second postdoctoral research on a childhood brain disease called Batten disease. Using his expertise in iPSC and CRISPR technologies, Indranil started developing iPSC-derived human neuronal and non-neuronal models of Batten disease. Using a multi-omics approach, Indranil discovered key changes in the Batten disease-affected neurons, which overlapped with other brain diseases such as Parkinson's disease. Using his background in Parkinson's disease research (from his Ph.D. in New York City), Indranil started his independent research, learning from the overlap between Batten disease and Parkinson's disease, with an aim to discover new therapeutic targets in neurodegenerative diseases.
Shaam Al Abed, Senior Research Fellow, Eccles Institute of Neuroscience
Title: Rectifying developmental brain trajectory to prevent cognitive deficits in autism spectrum disorders.
Bio: Dr A. Shaam Al-Abed is a postdoctoral researcher within the Eccles Institute of Neuroscience (Australian National University). Her research primarily addresses the mechanisms underlying memory formation, from psychology to synapses, in health and disease. She earned a PhD in 2013 from the University of Bordeaux, France, during which she investigated the mechanisms underlying the degradation of cognition with age and in Post-Traumatic Stress Disorder. In 2018, she joined Dr Nathalie Dehorter's group to study how development shapes the neuronal circuits responsible for memory processing, and how defects in neurodevelopmental disorders such as autism leads to cognitive disabilities.
Zorana Lynton, PhD student in Laura Fenlon's lab, UQ
Title: Neurodiversity or pathology? The anatomy and activity of Probst Bundles.
Bio: Zorana Lynton is an MD/PhD student studying in Dr. Laura Fenlon's brain development, plasticity and evolution lab at The University of Queensland. Zorana's project focuses on the anatomy and functional dynamics of aberrant interhemispheric brain connectivity.
ADNF Symposium XXII
September 29th, 09.00 AM Brisbane AEST time
Hosted via Zoom: https://uqz.zoom.us/j/81203597917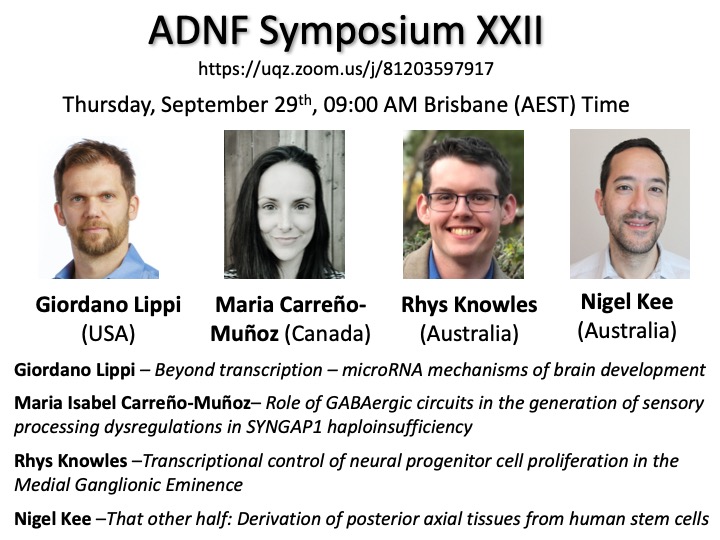 ADNF Symposium XIX
June 30th, 09.00 AM AEST
Hosted via Zoom: https://uqz.zoom.us/j/86914253947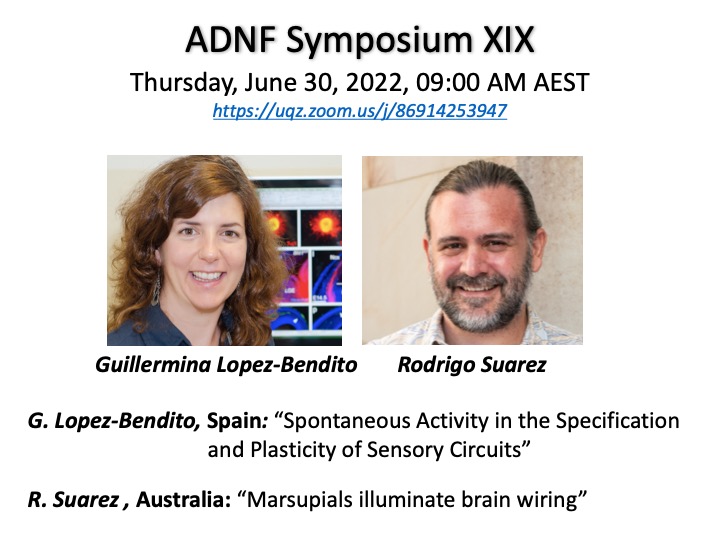 We have two fantastic speakers lined up.
Guillermina Lopez Bendito, csic Spain
Title: Spontaneous Activity in the Specification and Plasticity of Sensory Circuits
Rodrigo Suarez, UQ Australia
Title: Marsupials illuminate brain wiring
ADNF Symposium XVIII
May 26th, 09.00 AM AEST
Hosted via Zoom - https://uqz.zoom.us/j/88170501934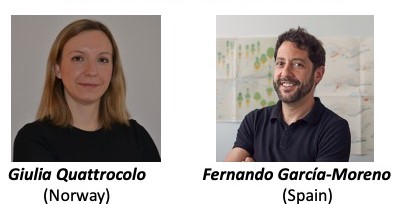 After obtaining a Bachelor in Biology and a Master in Neurobiology from the Università di Pavia, in Italy, in 2009 she moved to Northwestern University, Chicago, for a Ph.D. in Neuroscience. There she worked in the lab of Dr. Gianmaria Maccaferri, studying the integration of Cajal-Retzius cells in the postnatal hippocampal circuit. In 2014 she joined the laboratory of Dr. Gord Fishell, then at NYU, to study the role of genetic and environmental factors in determining the differentiation of cortical and hippocampal interneurons. In 2017 she moved back to Europe, in Norway, to work with Dr. Edvard Moser, at the Kavli Institute for Systems Neuroscience, at NTNU, in Trondheim, where she continued to investigate the role of Cajal-Retzius cells in the maturation of the hippocampal circuit. Since 2021 she is group leader of the Circuit Development lab at the Kavli Institute for Systems Neuroscience.
Fernando Garcia-Moreno
(Spain) - "Mosaic evolutionary history of brain circuits through the lens of neurogenesis".
Fernando García-Moreno graduated in Biology at the Complutense University in Madrid (Spain) and obtained his PhD working on the embryonic development of the cerebral cortex (Cajal Institute – Spain). He followed his research with a postdoctoral stay at the Department of Physiology, Anatomy and Genetics, University of Oxford (UK) funded by HFSP. Fernando shifted his research interest to the evolutionary origin of the mammalian neocortex. He ended it up as Junior Group Leader.
In 2016 he moved to Achucarro Basque Center for Neuroscience (Spain) where he is now an Assistant Professor and established his first independent group. Fernando aims to understand how the vertebrate brain evolved by studying the embryonic development of mammalian, reptilian and avian brains. To do so, he performs in vivo experimental embryology and single cell transcriptomics on chick, mouse and gecko embryonic brains.
ADNF Symposium XVII
Thursday, April 28th, 2022 at 09:00am Brisbane time (AEST, UTC+10)
Hosted via Zoom - https://uqz.zoom.us/j/88170501974

Kaylene Young (Australia) – How does protocadherin 15 direct oligodendrocyte progenitor cell behaviour?
Ben Emery (USA) - Loss of oligodendroglial support induces DLK-mediated degeneration of neurons
Carlie Cullen (Australia) – Do myelinating oligodendrocytes help us learn?
ADNF Symposium XVI
Thursday, March 31st 2022 at 09:00am Brisbane time (AEST, UTC+10)
Hosted via Zoom - https://uqz.zoom.us/j/84797775672

Emilia Favuzzi (USA) - Artisans of Brain Wiring: GABA-Receptive Microglia Selectively Sculpt Inhibitory Circuits;
Ewoud Schmidt (USA) - Humanizing the mouse brain: reorganizing cortical circuits through modified synaptic development;
Tracy Bale (USA) - Trophoblast mechanisms key in regulating neurodevelopment
Anastassia Voronova (Canada) - Regulation of neural stem cells by neuronal ligands
ADNF Symposium XV
Thursday, 24 February 2022, 9:00 AM Brisbane (AEST) Time
https://uqz.zoom.us/j/83158057048

Rachel Moore (UK)
Microtubules are not required to generate a nascent axon in embryonic spinal neurons in vivo
Michael Notaras (USA)
TBA
Rachel Wong (USA)
Circuit assembly in the vertebrate retina
ADNF Symposium XIII
Thursday, 28 October 2021, 9:00 AM Brisbane (AEST) time

Laura Fenlon (Australia)
Time shapes all brains: timing of a conserved transcriptional network underlies divergent cortical connectivity routes in mammalian brain development and evolution
Laurent Nguyen (Belgium)
Regulation of cerebral cortex morphogenesis by migrating cells
Carol Ann Mason (USA)
Wiring the eye to brain for binocular vision: lessons from the albino visual system
Thomas Perlmann (Sweden)
Interrogating dopamine neuron development at the single cell level

ADNF Symposium IX
Thursday, 24 June 2021 9:00 - 11:00am AEST
Log into the members area for registration details.

Juliette Godin (France)
Pleiotropic activites of the (atypical?) Kinesin KIF21B during cirtical development
Lachlan Harris (Australia)
Distinct transcriptional programs regulate Neural Stem Activation
Ruth Arkell (Australia)
Modelling the complex inheritance pattern of Holoprosencephaly using mouse Experimental Genetics
Simon Hippenmeyer (Austria)
Neural Stem Cell Lineage Progression in Developing Cerebral Cortex
ADNF Symposium V
Thursday, 25 February 2021 9:00 - 11:00am AEST
Log into the members area for registration details.

Song-Hai Shi (China) - Assembly of the neocortex
Lynette Lim (Belgium) – Shared and Unique Developmental Trajectories of Cortical Inhibitory Neurons
Alfredo Molina (UK) – Tuneable progenitor cells to build the cerebral cortex
Tomasz Nowakowski (USA)- Charting the molecular 'protomap' of the human cerebral cortex using single cell genomics

ADNF Symposium Recordings Now Available
Symposium 1 - Part I
Symposium 1 - Part II
ADNF Sympoisum II
ADNF Symposium III

ADNF Symposium IV
Helen Cooper
Jin-Wu Tsai
Isabel del Pino
Hongyan Wang
---
Hello, are you interested in developmental neuroscience research? If YES, then we welcome you to sign up for virtual events in the upcoming ANS Developmental Neuroscience Forum (ADNF) below!


Who we are
We are members of the Australasian Neuroscience Society (ANS), with an interest in developmental neuroscience. Our mission is to provide year-long engagement for our colleagues all over the world.
What we do
(i) monthly virtual symposia (4 speakers over a 2h session) comprising national and international speakers, and with gender and equity targets;
(ii) hold regular morning/afternoon teas, depending on where you are in Australasia/the World;
(iii) provide peer-to-peer exchange of ideas and panel discussions.
How to participate
Sign up below to join our mailing list for full details of presentations and speakers. We also encourage members to nominate speakers for this series, or even nominate yourself to speak about one of your exciting projects which you have published as a pre-print, or recently online.
Join the ADNF, as audience member as well as speaker!
Join up now here: https://thehenglab.com/the-ans-developmental-neuroscience-forum-new/
Best wishes,
The ADNF team
(Julian Heng, Nathalie Dehorter, Michael Piper, Kelly Glendining)