The Sir Grafton Elliot-Smith Award commemorates the Australian Professor of Anatomy whose major scientific contributions were in the field of comparative anatomy and evolution of the nervous system. Until 2008 it was awarded for the best essay on a neuroscience topic by a Student Member of the Society. Since 2009, the Sir Grafton Elliot-Smith Award has been presented for the best poster by a Student Member of the Society at the Annual Meeting.
Applicants for this Award must tick the Student Poster Prize box on their online registration/abstract form when registering for the Annual Meeting of the Society. At the abstract submission deadline, candidates must be a Student member of ANS and must not have submitted a thesis for a doctoral degree.
How to Apply
Tick the box on the conference website when you register for the annual ANS conference. Deadline for submission will be the same as the deadline for receipt of registration/abstracts for the meeting.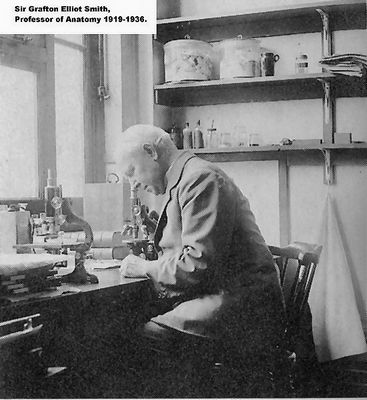 Previous Winners of the Student Poster Prize
2018 – Sonja Meier (The University of Queensland), Shruthi Sateesh (University of Otago)
2017 – Diana Sketriene (The University of Melbourne), Lauren Whyte (South Australian Health and Medical Research Institute), Dylan Fox (Monash University)
2016 - Paul Marshall (UC Irvine), Stephanie Guiney (Florey Neurosciences)
2015 - A Schroeder, Y Sun, T Sutherland
2014 - D. Busingye, J. Sultana, R. Mohan, P. Farzanehfar, G. Gnanamanickam
2013 - B. Wheaton, D. Alwis, J. Pinyon
2012 - H. Gooch, P. Atkinson, A. ​Ferner
2011 - M. Fogarty, T. Wilks, J. Stratton, C. Evans, L. Williams
2010 - A. Barutchu, D. Bradford, A. Edington, D. Mehra, B. Sivyer
2009 - S. Pandit, J. Cirillo, L. Oluich, H. Lee, B. Homkajorn
2008 - C. Foldi, D. Gonsalvez, D. Matusica, R. Weston, M. Walsh, N. Dharmaratne
2007 - A Jung, R Gasperini, J Ziebell, K Baker, L Christophidis, L Palmer, D Haustead, A Laird
2006 - M. Monif, H. Ross, T. Sargeant, M. Shivdasani, Y. Sia, N. Zuvela (commended R. Sullivan, M. Wilson)
2005 -M.K. Sy, T.R. DeMello, D. Flanagan, A.J. Camp, B.A. Graham & V.G. Jokubaitis
2004 - A. Woodruff, S. Hicks, T. Furlong, B. Trulzsch, M. Kohzad & E. Yan (commended: S. Waller, P. Michell, D. Sartor, G. Cheng & B. Emory)
2003 - T.D. Merson, B.J. Turner, H. Valcanis, S.P. Fernandes, R. Cameron & M. Ward
2002 - A. McGeachie, D. Springell, E. Schofield P. Jusuf, B. Hall, H. Stolp (commended: J. Carland, M. Hynd, D. Sartor & M. Kerr)
2001 - H. Barbour, A. Keramidas, P. McNulty, J. Nunan, N. Pedersen, M. Storan (commended: K. Aubrey, J. Heng)
2000 - N. Hohn, S. Borgland, J. Tollet, A. Condina, F. Sernee, S. Royal (commended: R. Moldrich, K. Balendra, E. Needham, N. Cerminara, D. Sandall, T. Stasinopoulos)
1999 - W.L. Huang, T. Tan & H Valcanis
1998 - P. Bengston, C. Faux & A. Robins (commended: T. Luu, J. Leung)
1997 - M. Murray (commended: N. Assaad, E. Krasovskis, A. Robins)
1996 - K.-L. Harris, C. Rattray-Wood & C.A. Reid
1995 - J. Tenne, G. Elston, J. Lewohl, G.B. Luckensmeyer & S. Woolf
1994 - Y. Brickman, T.H. Burne, M.D. Khyentse, K.-L. King & K.-M. Lee
1993 - C. Pichitpornchai, L. Richards, L.Schmidt, H. Sidek & D.Thubon
1992 - C. Pichitpornchai
1991 - S. Rutherford
1990 - A. Turnley
1989 - M.D. Voss (CNS Neurotransmitter Prize)
Winners of the Former Essay Competition
| | |
| --- | --- |
| Year | Winner(s) |
| 2007 | G. Gibbs |
| 2006 | P. Scott |
| 2005 | T. Furlong |
| 2004 | A. Woodruff |
| 2003 | J. Dundas & H. Potts |
| 2002 | L. Gillespie & G. Gregory |
| 2001 | M. Kirkcaldie |
| 2000 | E. Fry & S. Borgland |
| 1998 | A. Mark |
| 1997 | N. Hardie |
| 1996 | A. Hannan |
| 1995 | K. McConalogue |
| 1994 | K.A McGrath & R. Kanjhan |
| 1993 | C. Hardman |
| 1992 | K.L Brickell |
| 1991 | M. Breakspeare |
| 1990 | K.B. Ewan |
| 1989 | S. Murray |
| 1988 | P. Kitchener |
| 1987 | K. Sathian |