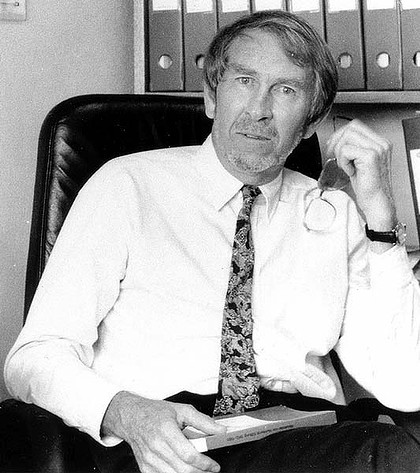 The Mark Rowe Award commemorates the late Australian Professor of Physiology whose major research contributions concerned the neural coding mechanisms and central processing mechanisms of mechanosensory sensation. This Award was established in Mark's name by his wife, Jan Rowe, in 2013. It is awarded annually for the best publication by an early career researcher member of the Society. The successful applicant will receive a certificate and prize money of $1000.
Conditions
The award will be made for a first or senior author publication based on research completed as a PhD student or postdoc, and published within 3 years of the award of PhD (considering career disruptions)
Joint first or senior author publications will also be considered.
The application must refer to a publication with an electronic or hard publication date (whichever is the earliest) of 2022 as indicated on the published manuscript.
Funds should be used for travel to a conference or collaboration.
See the Application and Assessment Form for more information.
How to Apply
Applications for 2023 are now closed.
2023 Applications (extended) deadline: 15 August 2023
Applications to be made by email to the ANS secretariat,

This email address is being protected from spambots. You need JavaScript enabled to view it.

Applicants must be Members of ANS.

See the Application and Assessment Form for application and assessment guidelines.
Past Winners
2022
Lauren Bleakley - Cation leak underlies neuronal excitability in an HCN1 developmental and epileptic encephalopathy
Bleakley LE, McKenzie CE, Soh MS, Forster IC, Pinares-Garcia P, Sedo A, Kathirvel A, Churilov L, Jancovski N, Maljevic S, Berkovic SF, Scheffer IE, Petrou S, Santoro B, Reid CA. Cation leak underlies neuronal excitability in an HCN1 developmental and epileptic encephalopathy. Brain. 2021 Aug 17;144(7):2060-2073. doi: 10.1093/brain/awab145.
Luca Godenzini - Auditory input enhances somatosensory encoding and tactile goal-directed behavior
Godenzini L, Alwis D, Guzulaitis R, Honnuraiah S, Stuart GJ, Palmer LM. Auditory input enhances somatosensory encoding and tactile goal-directed behavior. Nat Commun. 2021 Jul 23;12(1):4509. doi: 10.1038/s41467-021-24754-w
2021
Emily Willis - "Repopulating microglia promote brain repair in an IL-6-dependent manner", published in Cell on 5th March 2020 [journal impact factor: 38.63].
Ye Tian - 'Tian Y, Margulies DS, Breakspear M, Zalesky A. Topographic organization of the human subcortex unveiled with functional connectivity gradients. Nature Neuroscience.
23(11):1421-1432. November 2020.' (nominated by Associate Professor Andrew Zalesky & Professor Michael Breakspear)
2020
DiCello JJ, Carbone SE, Saito A, Rajasekhar P, Ceredig RA, Pham V, Valant C, Christopoulos A, Veldhuis NA, Canals M, Massotte D, Poole DP. Mu and Delta Opioid Receptors Are Coexpressed and Functionally Interact in the Enteric Nervous System of the Mouse Colon. Cell Mol Gastroenterol Hepatol. 2020;9(3):465-483. doi: 10.1016/j.jcmgh.2019.11.006
2019
Xiang Li , Qiongyi Zhao ,Wei Wei , Quan Lin, Christophe Magnan, Michael R. Emami, Luis E. Wearick-Silva, Thiago W. Viola, Paul R. Marshall, Jiayu Yin, Sachithrani U. Madugalle, Ziqi Wang, Sarah Nainar, Cathrine Broberg, Vågbø, Laura J. Leighton, Esmi L. Zajaczkowski, Ke Ke, Rodrigo Grassi-Oliveira , Magnar Bjørås, Pierre F. Baldi, Robert C. Spitale and Timothy W. Bredy (2019) The DNA modification N6-methyl-2'-deoxyadenosine (m6dA) drives activity-induced gene expression and is required for fear extinction Nat Neurosci. 22, 534-544
2018
Benjamin G Trist, Davies, K.M., Cottam, V., Genoud, S., Ortega, R., Roudeau, S., Carmona, A., De Silva, k., Wasigner, V., Lewis, S.J.G., Sachdev, P., Smith, B., Troakes, C., Vance, C., Shaw, C., Al-Sarraj, S., Ball, H., Halliday, G., Hare, D.J. and Double, K.L. (2017) Amyotrophic lateral sclerosis-like superoxide dismutase 1 proteinopathy is associated with neuronal loss in Parkinson's disease brain.
Acta Neuropathol. 134, 113-127.
2017
Brendan Bicknell and Geoffrey Goodhill. (2016) Emergence of ion channel modal gating from independent subunit kinetics. Proc Natl Acad Sci U S A. 113, E5288-97.
2016
Moones Heidari, Daniel M. Johnston, and Liz Milward. (2016) Brain iron accumulation affects myelin-related molecular systems implicated in a rare neurogenetic disease family with neuropsychiatric features. Molecular Psychiatry 21, 1599-1607.
2015
Kalina Makowiecki, Alan R. Harvey, Rachel M. Sherrard and Jennifer Rodger. (2014) Low-intensity repetitive transcranial magnetic stimulation improves abnormal visual cortical circuit topography and upregulates BDNF in mice. Journal of Neuroscience 34, 10780-10792
Mehdi Adibi, James S McDonald, Colin WG Clifford and Ehsan Arabzadeh.(2013) Adaptation improves neural coding efficiency despite increasing correlations in variability. Journal of Neuroscience 33, 2108-2120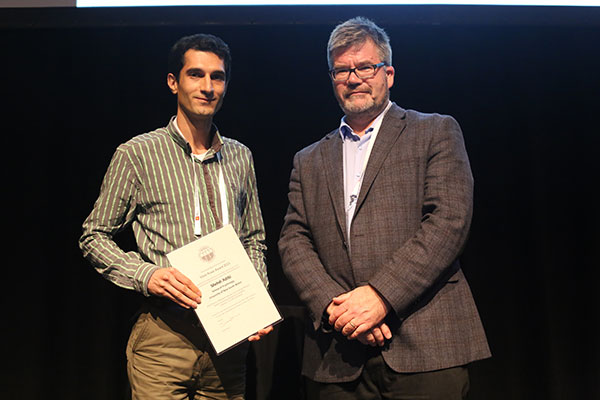 Mehdi Adibi receiving his award from the ANS President, James Vickers
2014
Xin Du, L. Leang, T. Mustafa, T. Renoir, T.Y. Pang and A.J. Hannan. (2012) Environmental enrichment rescues female-specific hyperactivity of the hypothalamic-pituitary-adrenal axis in a model of Huntington's disease. Translational Psychiatry 2:e133